Our Dryer Vent Cleaning Process
We start with our inspection. We inspect the transition hose behind the dryer to make sure it is not crushed or broken. Then we locate the outside termination point and set up our ladders if needed. Then we turn the dryer on and perform an air flow test at the outside termination. This will show us how clogged the vent is or if any damage is present before we get to the cleaning process.
There are times during the inspection that we notice the dryer vent is not up to code. Code for a dryer vent is 28 gauge galvanized steel pipe. Frequently, we find aluminum, flex hoses, and semi-rigid pipe. We always recommend these dryer vents be brought up to code but we can attempt cleaning them for short term use. An estimate can be given at this time.

There is a risk at cleaning these types of vents due to the material and age these dryer vents can tear, break, or fall apart very easily. We will not be responsible if these types of hoses break during the cleaning process.
We clean the dryer vents using professional dryer vent cleaning equipment from behind the dryer or outside at the termination.
A rotary brush system is fed through the dryer vent line the brush scrapes and shreds the lint blockages attached to the walls of the vent.
High powered air is another form of cleaning we use with a reversed skipper blowing the lint out the termination.
These cleaning processes are extremely thorough leaving the vent completely cleared of any blockages allowing the dryer to properly breathe operating safely and efficiently.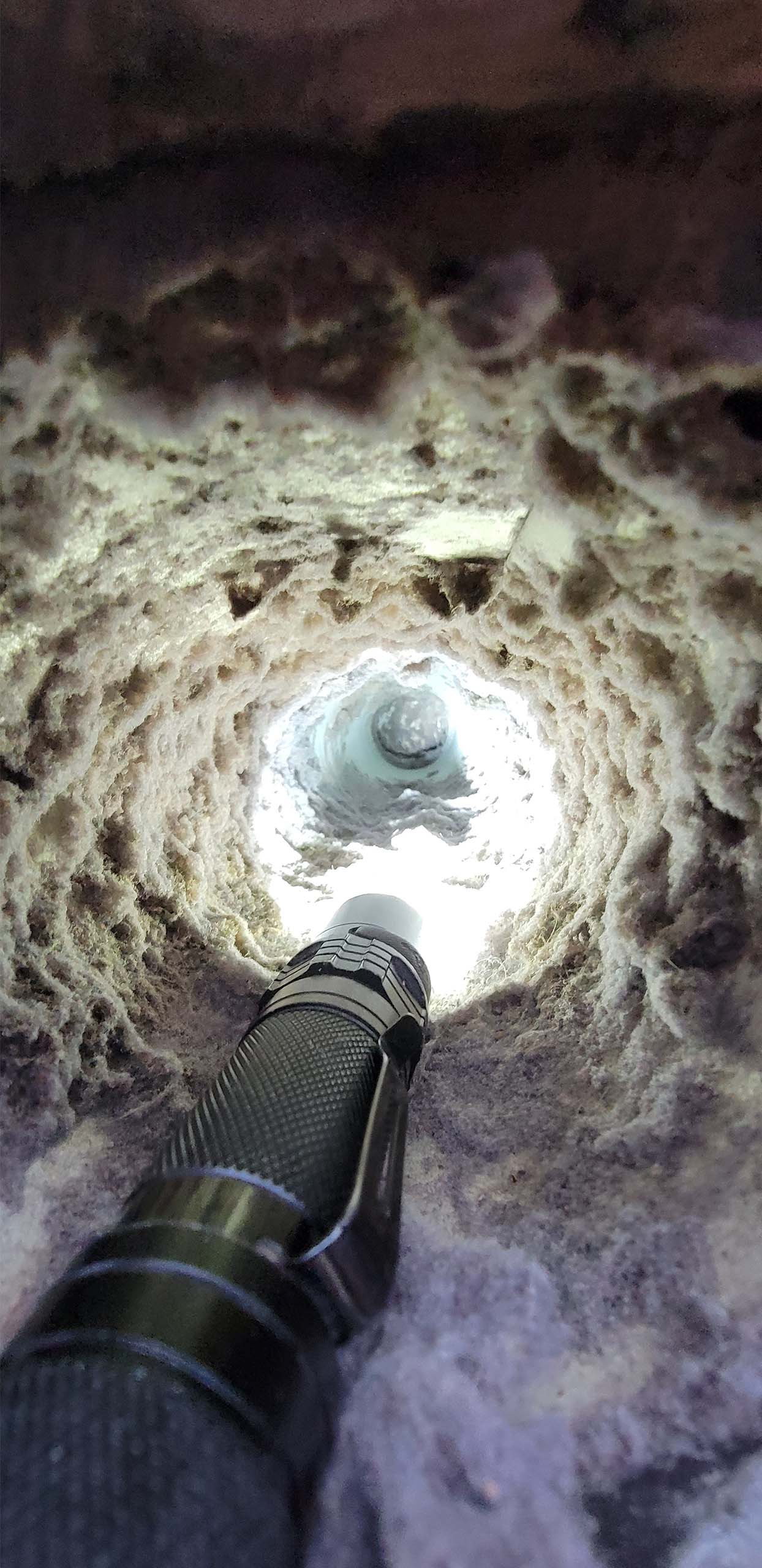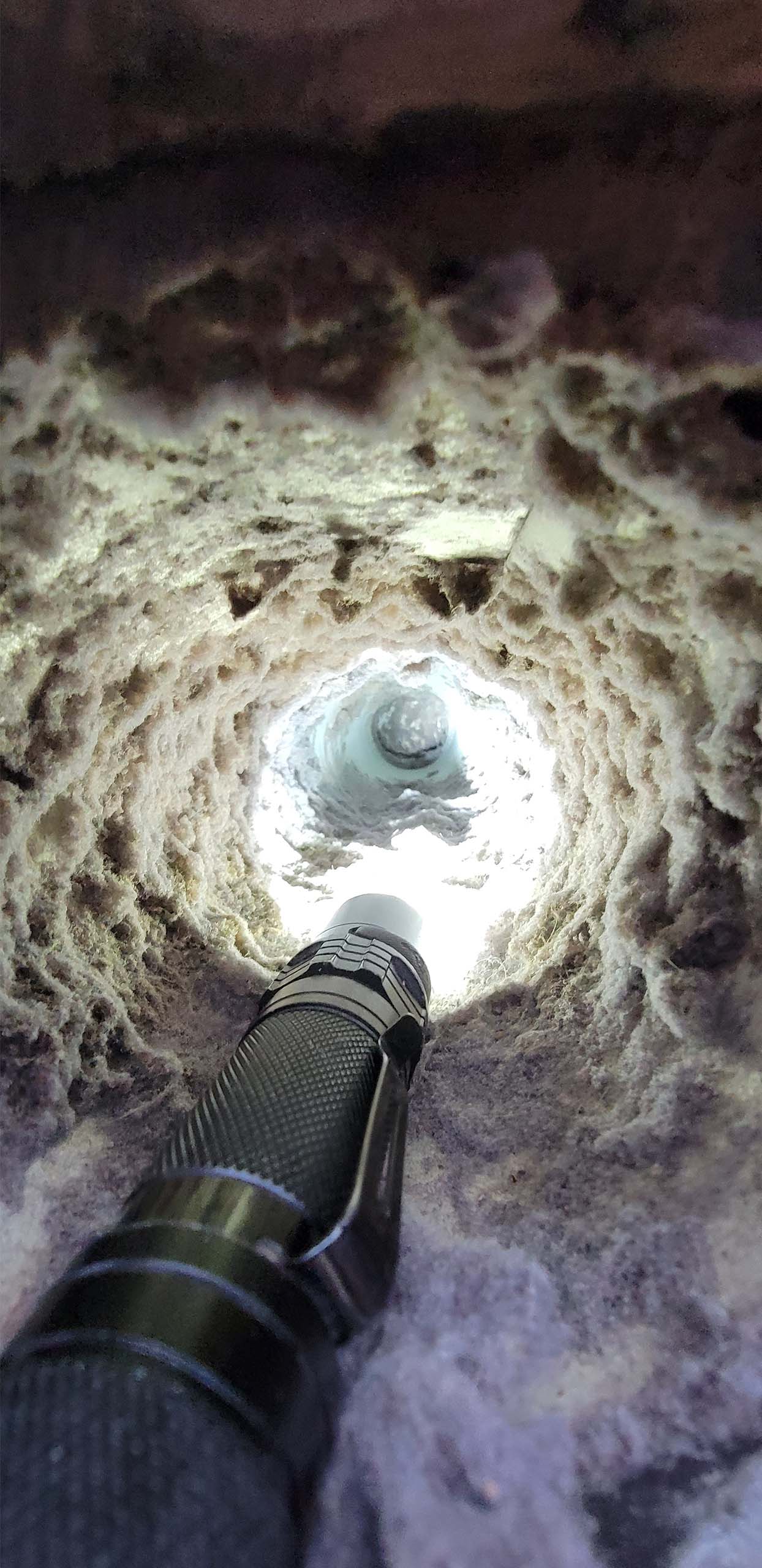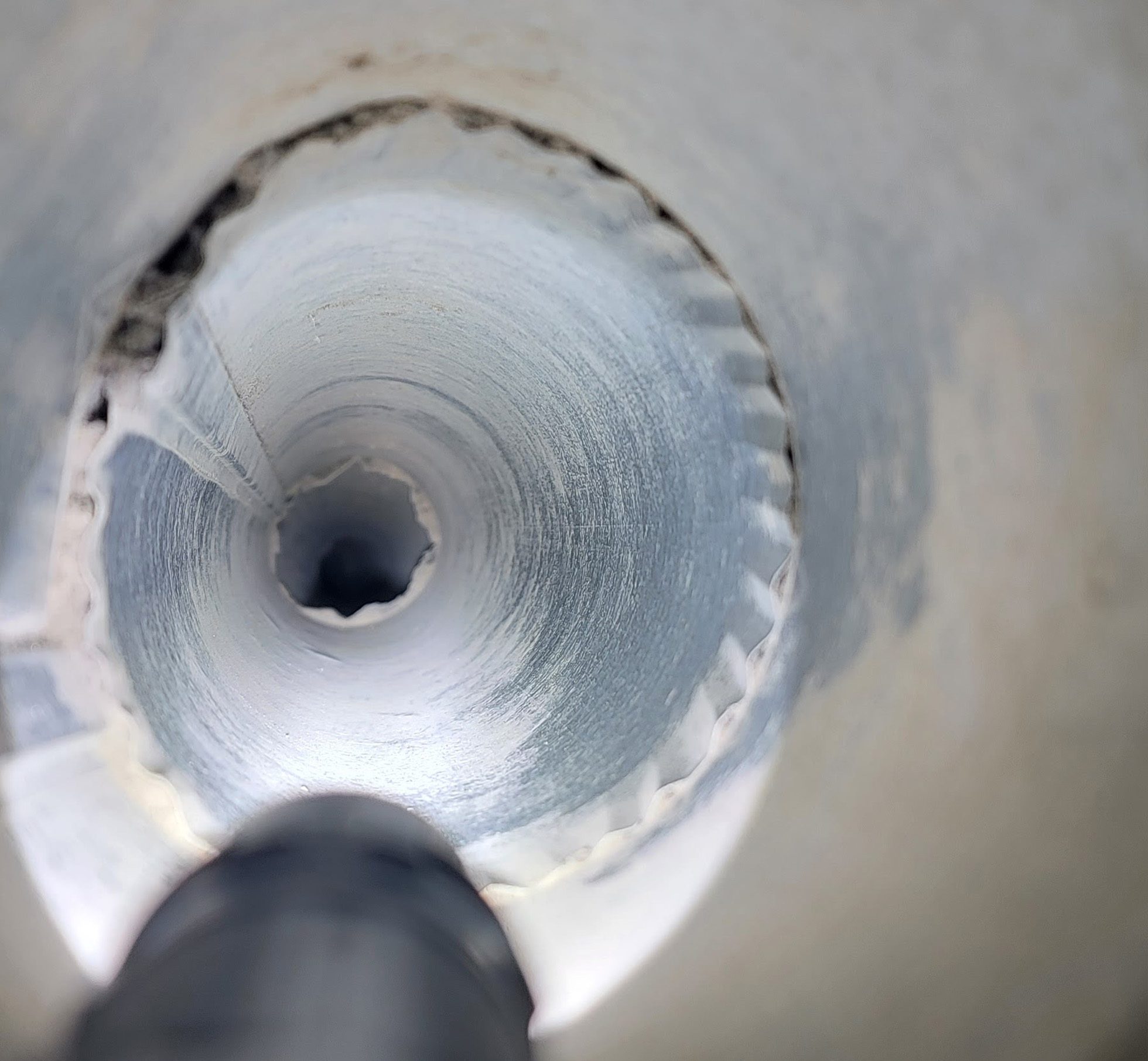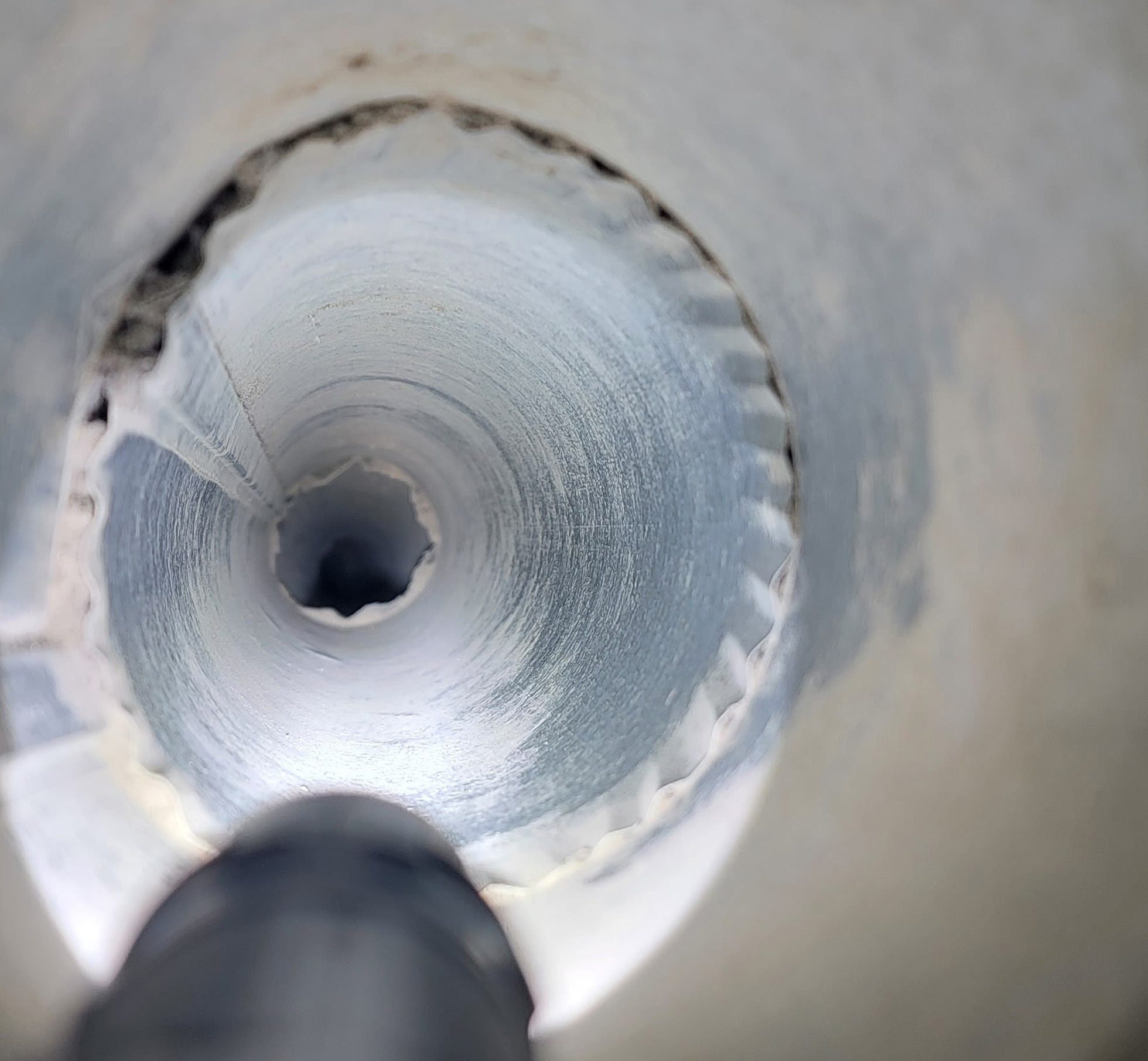 There are times when the vent can become so severely blocked that water, and heavy wet lint can accumulate in the vent. These types of blockages occur when the vent has not been cleaned properly in the past or has gone many years or even decades without being cleaned. In these cases, more time, effort and in some cases special equipment are needed to remove the severe blockages. To ensure the vents are completely cleared the vent is snaked as many times as needed.
Bird nest and birds are also very commonly found in dryer vents. If the bird nest is empty, it can be removed with a specialty tool at an additional charge.

A bird guard can also be installed at an additional charge.

If there are birds present, due to the Bird Protection Act, we recommend leaving the bird there during the nesting season and scheduling us to come back and remove the nest at a later date.
Screens

A screen on a dryer vent will cause more problems than it does helping and is against building code. I understand what the screen is there for, but it will clog with lint and could cause a dryer to catch on fire, or cause damage to your dryer. If you want the protection that a screen gives you to keep animals out of your vent, I recommend installing a Defender Guard. The Defender is not a screen, but bars. It allows the lint to pass through it.
The dryer vent cover on the side or roof of the house is cleaned as well, removing all blockages.
Some of these covers are made of plastic and they dry rot easily. We are not responsible for broken covers or flappers, but we will bring it to your attention. We carry several vent covers with us and can replace these covers at an additional charge.
Another airflow test is then performed after the dryer vent cleaning to ensure the vent has been completely cleared allowing the dryer to perform properly and safely. If we notice that the airflow from the dryer is still not performing well, this is an indication that something could be wrong with the dryer vent or dryer and a further inspection is needed.
A video inspection can be performed at this time. This will allow us to see the inside of your dryer vent and determine if anything is disconnected or damaged. We may also access your attic/crawlspace to evaluate the dryer vent.
The process is very clean. No lint or dust gets in your house at all.
If needed, we use special airsleds and floor sliders to protect your floors if/when moving your appliances to access the dryer vent.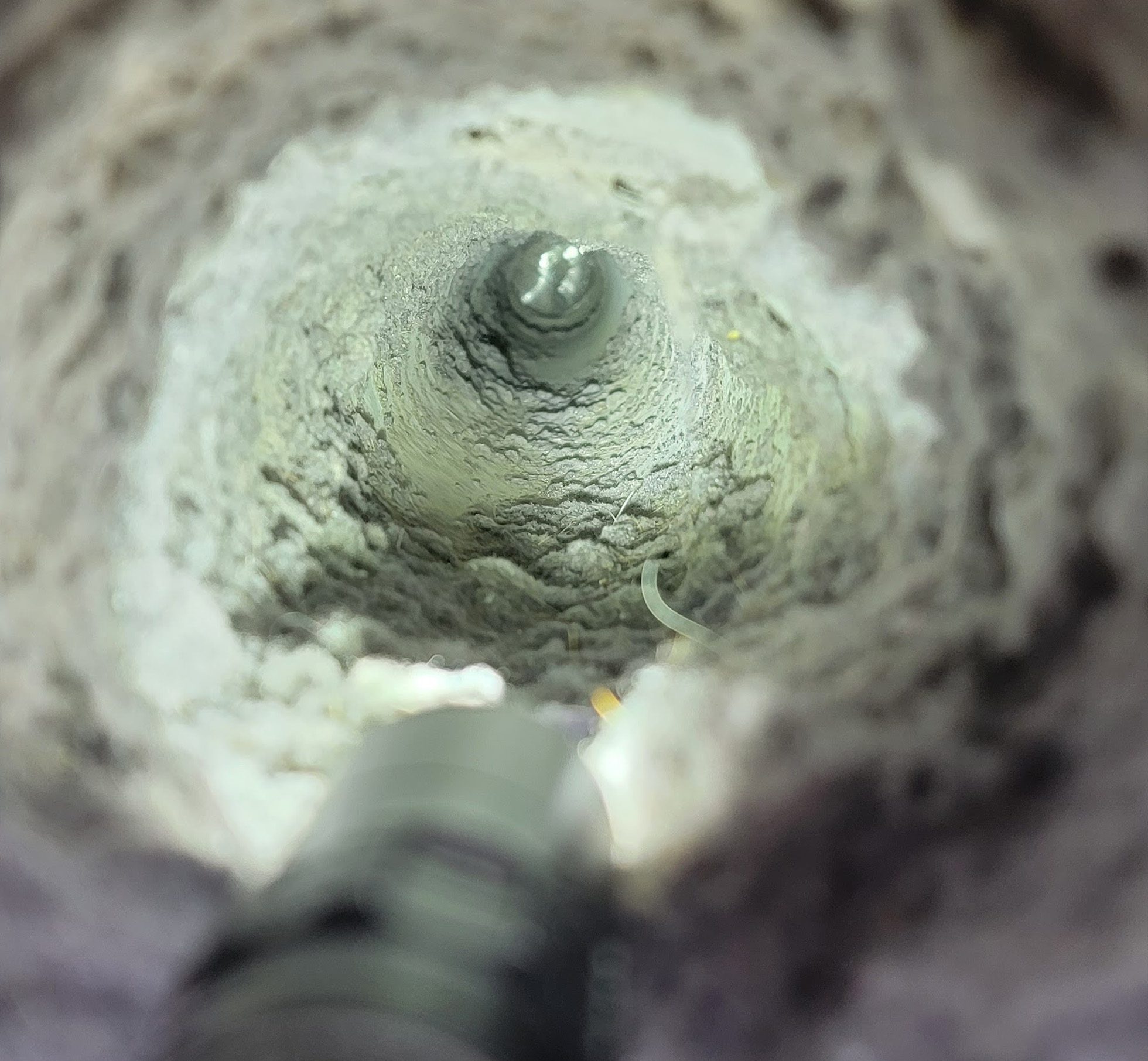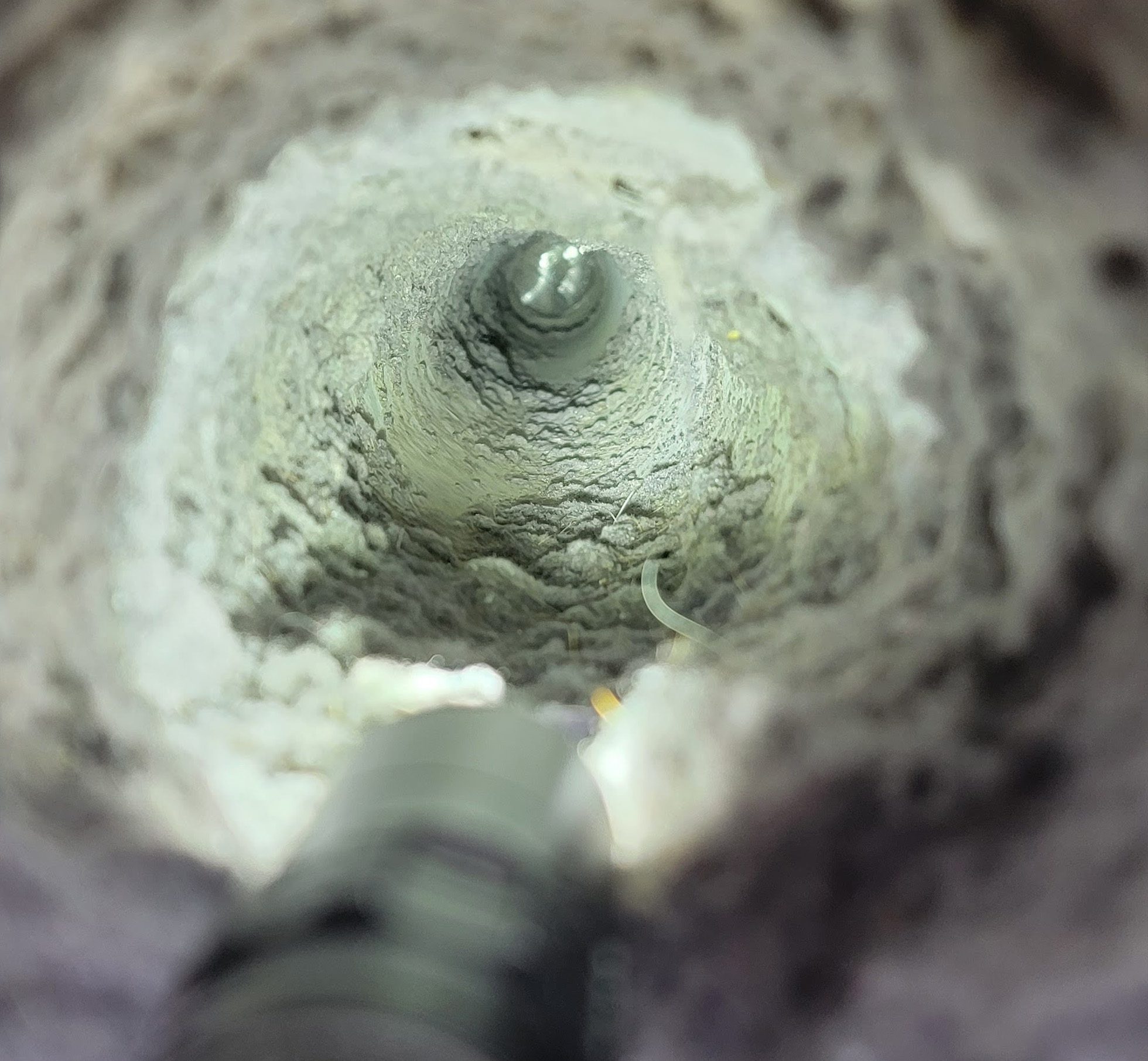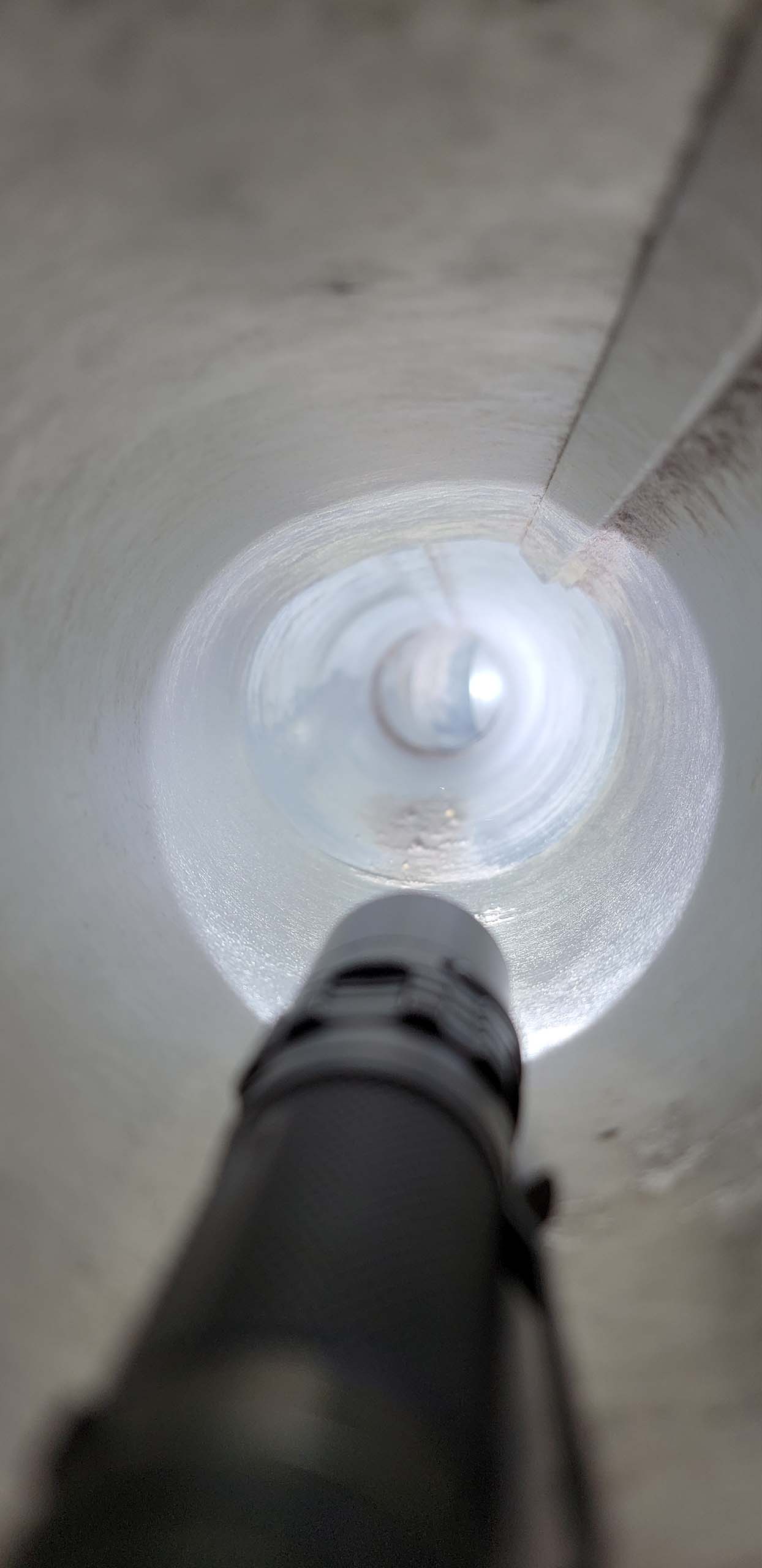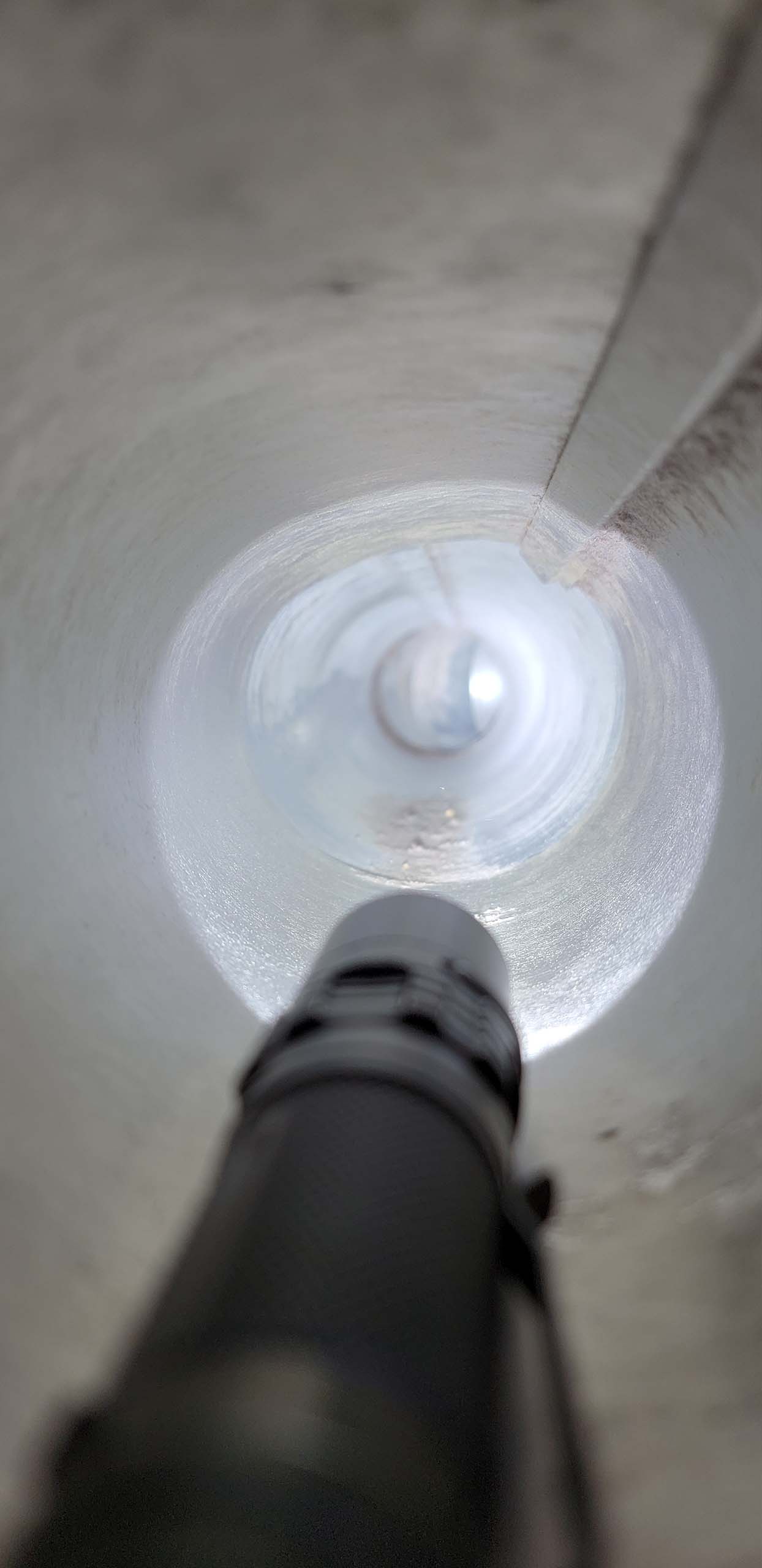 Dryer Vent Cleaning Benefits
Reduce your risk of a dryer fire.
Drastically lower your power bill.
Your dryer will last longer with less repairs.
Your clothes will dry faster with less lint left on them.
Clogged vents cause dryers to overheat.
This process pays for itself.
How often should I clean my dryer vent?
The Chimney Safety Institute of America (CSIA) and the National Fire Protection Association (NFPA) recommend annual dryer duct inspections and/or cleanings to ensure safer and more efficient operation of your appliance. Frequency of duct cleaning will depend on several factors including the number of loads that are dried each week, if there are pets in the home, the length of the dryer vent system and the number of bends there are in the ducts.
Here is a general guideline based on how many loads you dry per week:
1 to 3 loads a week, should be cleaned approximately every 2 years.
4 to 7 loads a week, should be cleaned annually.
8+ loads per week should receive cleanings about every 6 months.
But this can change based on the layout of your dryer duct.
Who needs dryer vent cleaning?
Everyone who has a dryer in their home, condo, apartment, or townhome. Everyone's dryer will run more efficiently with yearly dryer vent cleaning. If your dryer vent is over ten feel long, it can become a real fire hazard if left unserviced. Don't put this off. The risks of a dryer fire are too high.
Why Is Dryer Vent Cleaning Important?
With every load of laundry that is put in the dryer, tiny bits of fabric fibers (lint), pet hair, our hair, and other small items are tossed loss from the clothes we dry. The lint trap in the dryer catches the majority of these fibers but not all of them. Over time, the lint that bypasses the dryer screen accumulates in the dryer vent duct system and reduces air flow. This heavy concentration of lint can also be responsible for excess heat in your dryer that will not only damage your clothing but could start a dangerous fire. As a result, there are approximately 15,000 dryer fires each year, most of which could have been prevented if the dryer duct system had been professionally cleaned.
Clogged dryer vents can actually affect your energy bill. When your dryer vent is not running at its best, unnecessary energy is used, which raises your bill. A clogged dryer vent can actually raise your energy costs by up to $24 a month—that adds up to $288 a year! Having your dryer vent inspected and cleaned annually will help save you money in the long run.
Your Dryer Vent System
The purpose of your dryer vent system is to remove moisture, heat, and lint from your laundry as it dries. Regular dryer vent cleaning keeps lint and other debris from building up in your dryer vent which prevents the dryer from drying properly, making your laundry take too long to dry, and is a fire hazard.
Clogged Dryer Vent
Blocked dryer vents can also cause problems. Wild animals such as birds, squirrels, rats, snakes, bats and other animals can also nest in your dryer vent and cause blockage. We can prevent this from happening with installing a Defender Guard.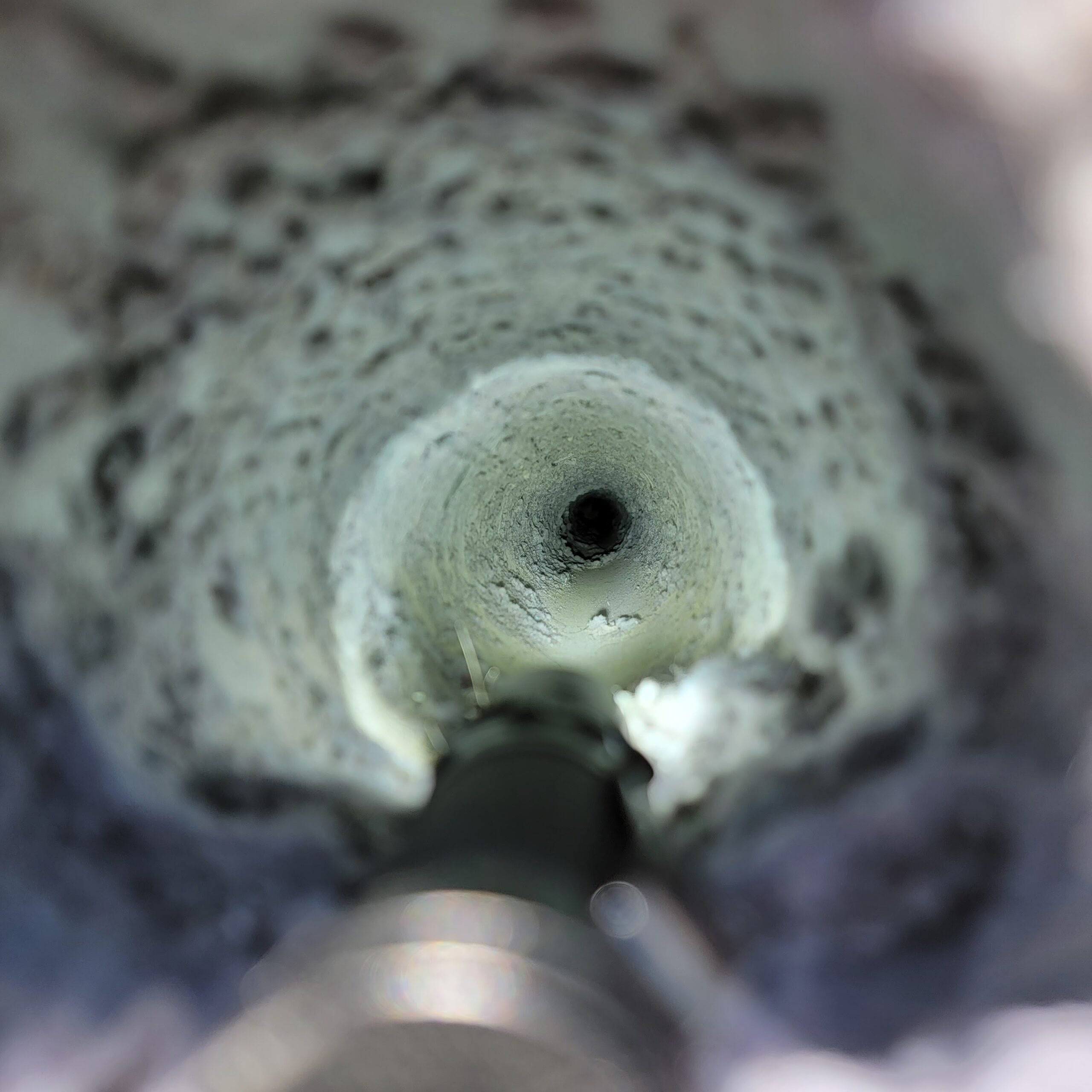 Wondering If You Need A Cleaning?
There are several warning signs that your dryer vent needs to be cleaned.
Drying time is longer than 45 minutes
Dryer is hot to the touch or the clothes and dryer have a burning smell.
Lint on your clothes at the end of the drying cycle.
Clothes are still damp at the end of the drying cycle.
Moldy smell?